February
24
2017
A New Mom's Life Maid Easy
By Priya Ghosh | 0 Comments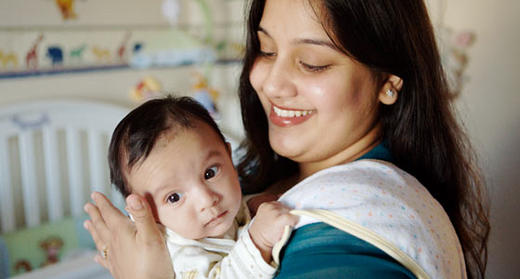 Arathi called out, "Chechi, can you hold the baby a minute?" She handed over her newborn to Usha and thanked God for Life Maid Easy Services Incorporated and providing a good maid in time. Akshay was born prematurely and neither her parents nor her husband could arrive on time. Her friend arranged a care taker till they were discharged and her husband came home. That lady was trouble from the beginning. So her husband took their neighbour's advice and signed up for post natal care with Life Maid Easy Services Incorporated. The care giver was excellent and the baby took to her like fish to water. All Arathi had to do was relax.
During her pregnancy, her colleagues told her how difficult the first 6 months would be. Sleepless nights, diapers, breastfeeding disasters, do's and don'ts. It sounded so stressful. But with this kind of postnatal care, everything was a breeze. "Thank you, Chechi. God sent you to me. I wonder what I would have done without you." Usha smiled. "We both know that if Gokul had not decided to come to Life Maid Easy for your post delivery care, we wouldn't have met", she said. Arathi nodded and agreed. Like they advertised, Usha was professionally trained, reliable, and verified. Usha taught her how to hold the baby, bathe the baby and soothe him. And the way Usha took care of her, she almost never missed her mother. Usha insisted that Arathi rested when Akshay slept and got the regular maid to do the housework without disturbing Arathi much. She got the maid to make delicious nutritious food. " You need to take care of yourself. It benefits the baby. You don't need to do everything to do it right. No one can do it all, let all do it perfectly". They took small walks together making her refreshed and fit. When Arathi felt guilty about resting, Usha would say, "Try to laugh everyday. Meet new people. When you feel guilty, take a deep breath and remember," You have to be happy. Your happiness reflects on the baby".
9 months later, As Arathi went back to work, she felt no guilt of leaving Akshay home. After Usha's period ended, they went back to Life Maid Easy and hired a live in nanny. Akshay missed Usha, but soon warmed up to Rani. Arathi knew all was well and resumed the project she was assigned.